By Rev. Dr. Ed Hird
I will never forget when Wilf Fawcett in 1987 asked me to write a spiritual column for the brand new Deep Cove Crier. As the new Rector of St. Simon's North Vancouver, I had been living in the Seymour/Deep Cove community for less than a year.  He told me about Bruce Coney the dynamic founder and publisher of the Deep Cove Crier. Wilf, as founder of Fawcett Insurance, had been asked by Bruce to write an insurance column.  When I first met Bruce for coffee, he mentioned that his mom, while visiting from South Africa, had attended St. Simon's and enjoyed it.
I had no idea when I agreed to this request that I would still be writing for the Deep Cove Crier almost thirty years later. Life is full of surprises. In an age when many things are discarded and forgotten, the Deep Cove Crier with its new editor Maria Spitale-Leisk has shown remarkable resilience.
Thirty years ago, there was a lot happening in our family. We had recently moved to Deep Cove from serving in Abbotsford. Born in Vancouver, I had never imagined living on the North Shore. At the grand old age of 33, my wife Janice and I had experienced the birth of our third son. You may be old enough to remember the hit show My Three Sons with Fred McMurray which ran for 380 episodes.
Our congregation St. Simon's North Vancouver recently celebrated its 72nd anniversary, having been birthed in the Deep Cove Fire Hall, along with a few other congregations who also initially worshipped there. Our oldest and longest member, Ashley Carr, age 96, returned to Deep Cove from World War II with his British war bride Rita. It is not a co-incidence that St. Simon's started in 1945 with the beginning of the baby boom. Everyone wanted to get married and start a family, having had to wait four years while their men were away in Europe. Rita was part of the Sweet Adelines singers for many years. She was one of the sweetest Deep Cove residents that I have had the privilege of meeting. Rita and Ashley were always so good-tempered and kind to others. Even in the worst of times, they always left me feeling better after visiting them. When Rita died, I wrote a Deep Cove Love Story article about her and Ashley in the Deep Cove Crier.
Four years later in 1949, the St. Simon's youth group built the blue church building on 1384 Deep Cove Road. The blue colour was more recent, painted by the late Eric Johnson, a longshore man foreman, who did many generous renovations to our building, including redoing the roof and making the building wheelchair accessible. From the very beginning, St. Simon's has had a very active ACW women's group which has given tens of thousands of dollars to missions locally and overseas. St. Simon's has a deep passion to serve others, and gives partial support to a number of missionaries. One missionary that we have supported for 24 years is Elsie Quick, the Executive Director of Partners in Hope, which works with people coming off drugs and getting out of prison.
In 1964, with the booming growth of Deep Cove babies, we ran out of room at 1384 Deep Cove, and purchased two and a half acres for $12,000, near the Seymour Golf & Country Club. Sadly, our financial campaign fell short by $20,000, and the district was not willing to put in sewage to the new site. So, in 1972, we sold the property for $17,000, and used the money to add a full basement to the blue building. Up to that point, our ladies had to stamp hard on the stairs so that the rats would leave.
St. Simon's was almost closed several times during these disappointing situations. In 1979, Fr. Bill Ferris came to St. Simon's on a half-time basis. During his attempting to fix St. Simon's, he had a heart attack and was put on an exercise routine at Ron Andrews Rec Centre. It was there in the sauna that Bill+ was touched by the Holy Spirit, changing his life forever. Maureen Harrison, who ran the Dollarton Hair Dressing Salon, had also recently been filled with the power of the Holy Spirit. The reason why St. Simon's still exists with all the challenges it has faced can only be attributed to the Holy Spirit. Maureen, our spiritual grandmother, now prays for us in Evergreen Extended Care.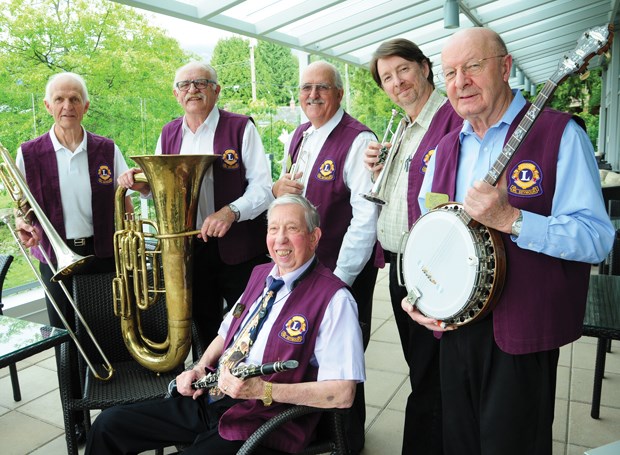 Wilf Fawcett was raised Anglican, but hadn't attended in years. One day in 1980, while driving on Deep Cove Road, God told Wilf to stop the car and begin to attend St. Simon's and help them with their finances. In 1981, Bill Ferris was able to go full-time with St. Simon's. The congregation grew so much that they again ran out of room, and unsuccessfully tried to rebuild on their site in 1985. I came in 1987 to the St. Simon's church family. My vision was to build on the wonderful renewal foundations laid by Bill Ferris+. We adopted the motto "Praising, Serving, Sharing Christ in the Power of the Holy Spirit". St. Simon's began to grow, adding a traditional 9am Prayer Book service to our contemporary 10:30am service.  We led twenty-five Renewal Missions, bringing top speakers from around the world to Deep Cove. In 2004, we moved our 10:30am service to Maplewood School, followed six months later by our 9am service. In our 13 years of being there, we have seen major changes to the local Maplewood community.
I thank God for Ashley & Rita Carr, Wilf & Marg Fawcett, Bill & Judy Ferris+, Maureen Harrison, and so many other great Deep Cove people that we have been privileged to know and serve in the past 30+ years.
Rev. Dr. Ed Hird
-published by the North Shore News
A Life Remembered: Billy Graham
Rate This
by Rev. Dr. Ed Hird
You will enjoy this delightful new 30-minute video remembering Billy Graham's life and impact.
This video weaves in excerpts of Billy's life that many of us have never before seen. My late mother Lorna gave her life to Christ at a 1985 Billy Graham Crusade in Vancouver, BC.
Having gone home to heaven before Billy did, I am sure that my mother, with countless others, would have been excited to welcome Billy into heaven. Many of us have Billy Graham stories, perhaps of attending a crusade, or of a relative or friend that met the Lord Jesus through Billy Graham's ministry.
Feel free to share your Billy Graham story in the comments section to this posting. You are also encouraged to repost this video and help send it viral as it contains the life-changing gospel. I am trusting that many will enter the Kingdom or return to the Lord after watching this 30-minute presentation. Do you know any friends, family, neighbours or co-workers who needs Christ and might benefit from watching this video?
Rev. Dr. Ed Hird, BSW, MDiv, DMin
P. S. Click this Amazon link to view for free the first two chapters of our new novel Blue Sky.
"I'm afraid there's been an accident…"
Sandy Brown and her family have just moved to Spokane, Washington where her husband, Scott, is pastoring a new church. With a fresh start, Sandy is determined to devote more time to her four children. But, within weeks of settling in their new life, the Brown family is plunged into turmoil.
Sandy receives shocking news that her children aren't safe, which brings back haunting memories of the trauma she experienced as a girl. Then, the unthinkable happens…
A brutal attack puts Sandy on the brink of losing everything she's loved. Her faith in God and the family she cherishes are pushed to the ultimate limit.
Is healing possible when so many loved ones are hurt? Are miracles really possible through the power of prayer? Can life return to the way it was before?
Blue Sky reveals how a mother's most basic instinct isn't for survival… but for family.
If you're a fan of Karen Kingsbury, then you'll love Blue Sky. Get your copy today on paperback or kindle.
-The sequel book Restoring Health: body, mind and spirit is available online with Amazon.com in both paperback and ebook form. Dr. JI Packer wrote the foreword, saying "I heartily commend what he has written." The book focuses on strengthening a new generation of healthy leaders. Drawing on examples from Titus' healthy leadership in the pirate island of Crete, it shows how we can embrace a holistically healthy life.
In Canada, Amazon.ca has the book available in paperback and ebook. It is also posted on Amazon UK (paperback and ebook), Amazon France (paperback and ebook), and Amazon Germany (paperback and ebook).
Restoring Health is also available online on Barnes and Noble in both paperback and Nook/ebook form. Nook gives a sample of the book to read online.
Indigo also offers the paperback and the Kobo ebook version. You can also obtain it through ITunes as an IBook.
To receive a personally signed copy of any of our books within North America, just etransfer at ed_hird@telus.net, giving your address. Cheques are also acceptable.
-Click to purchase the Companion Bible Study by Jan Cox (for the Battle of the Soul of Canada) in both paperback and Kindle on Amazon.com and Amazon.ca
Indigo also offers the paperback and the Kobo ebook version. You can also obtain it through ITunes as an IBook.
-Click to purchase the Companion Bible Study by Jan Cox (for the Battle of the Soul of Canada) in both paperback and Kindle on Amazon.com and Amazon.ca